WHY SPRING MIGHT JUST BE YOUR NEW FAVOURITE SKI SEASON
Spring skiing and snowboarding is a captivating experience, seamlessly blending the icy thrill of winter with the gentle warmth of the impending summer. For those who have predominantly skied and snowboarded during the peak winter months, the allure of spring skiing and snowboarding can be a revelation. In this guide, we'll delve into the myriad advantages of spring skiing in the USA, Canada, and Japan, elucidating why it might just be the perfect backdrop for your next ski escapade.
Sun-Kissed Slopes:
Regardless of whether you're navigating the Rockies, traversing the Canadian wilderness, or descending the Japanese Alps, spring promises longer, sunlit days. This extended daylight not only offers more time on the slopes but also the unparalleled joy of skiing and snowboarding under a radiant sun. The gentle warmth is a stark yet welcome contrast to winter's chill, making each run a delightful experience.
T-Shirt Skiing and Snowboarding:
One of the most liberating experiences of spring skiing and snowboarding is the ability to shed bulky layers and ski in t-shirts. The mild temperatures and radiant sun make it possible, and there's truly nothing like feeling the cool breeze against your skin as you descend the slopes.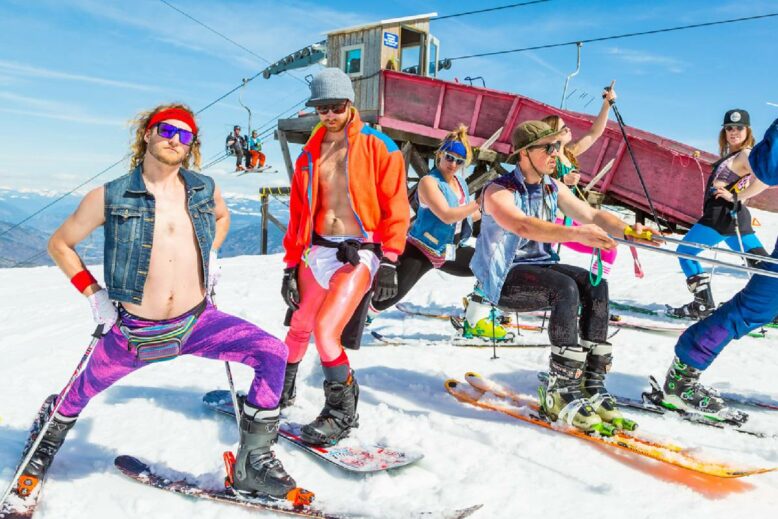 The Gift of Fresh Snow:
Contrary to popular belief, spring doesn't signal an end to snowfall. Many regions, from the vast terrains of North America to the mountainous landscapes of Japan, witness sporadic dustings of fresh snow. This ensures skiers and snowboarders get the best of both worlds: the compacted base of winter and the soft, fresh layer of spring.
Festive Vibes:
Spring is synonymous with rejuvenation and celebration. Ski resorts in all three regions host vibrant spring festivals. For instance, the World Ski & Snowboard Festival in Whistler, Canada, and the Spring Grüv in Park City, USA, are renowned for their live music and spirited atmosphere. Japan's ski resorts, while quieter, resonate with the cultural celebrations of cherry blossom season.
Ease of Booking:
Post the winter frenzy, spring ushers in a calmer period. This results in better availability across accommodations, ski lessons, and other amenities. The reduced crowds mean more personalised attention and a more relaxed skiing and snowboarding experience.
Value for Money:
With better availability comes better prices. Spring, being the shoulder season in many ski resorts, often translates to more wallet-friendly prices. From accommodation and lift tickets to dining experiences, there's a noticeable reduction in costs, ensuring your holiday is both memorable and economical.
Pond Skimming:
A rite of passage for many spring skiers and snowboarders, pond skimming involves skiers and snowboarders trying to cross a man-made pond without sinking. It's as fun to participate in as it is to watch, with many resorts in the USA and Canada hosting annual pond skimming events. Park City, USA with host their 23rd annual Pond Skimming Competition on April 6th 2024 during Spring Grüv.
The Coveted Goggle Tan:
A quirky yet beloved aspect of spring skiing and snowboarding is the goggle tan. A testament to hours spent on sunny slopes, this tan is a badge of honour for many skiers and snowboarders.
Spring skiing and snowboarding is not merely a seasonal activity; it's an experience, a journey. The harmonious blend of sun, snow, and celebration offers a fresh perspective, a new lens through which one can appreciate the beauty of skiing terrains. Whether you're a seasoned skier or snowboarder looking for a change of pace or a novice eager to experience the slopes under the gentle spring sun, this season promises unparalleled delights. As connoisseurs of ski holidays, we believe there's no better way to herald the new season than with skis on your feet and the sun on your face. Embrace the joys of spring, and let the mountains work their magic!